Updating Your Profile on LinkedIn: Skills You Should (and Shouldn't) Add was originally published on uConnect External Content.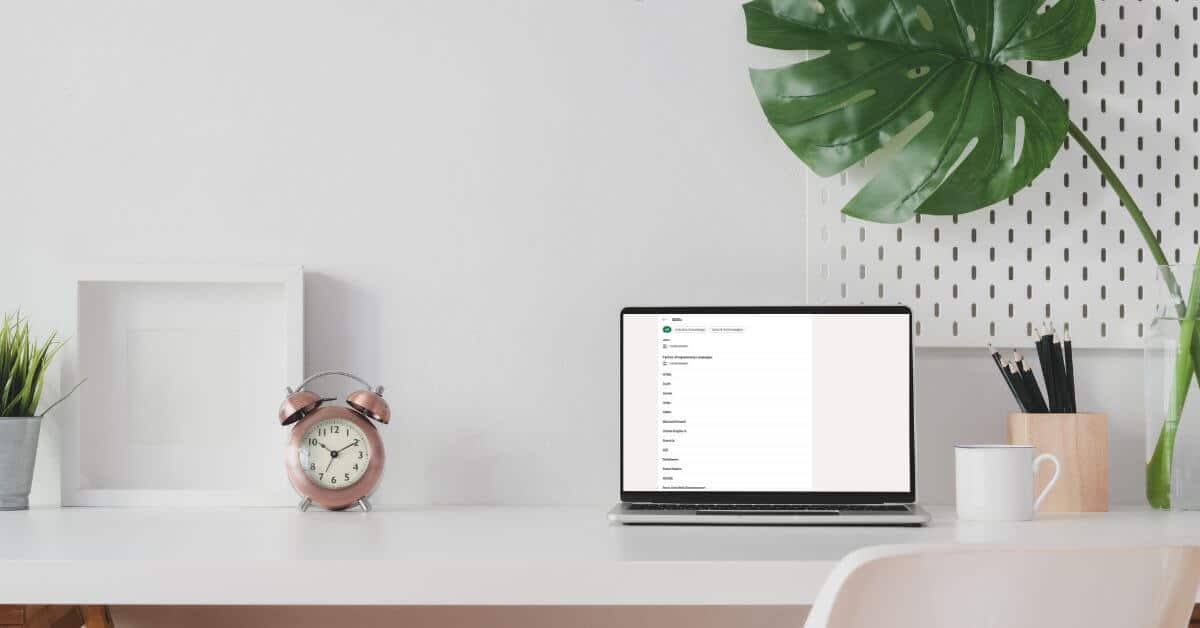 Creating a LinkedIn profile can feel stressful enough — how much experience do you add? Do you write descriptions of what you did? Who do you connect with? Should you start making inspirational posts with emojis for emphasis? Yet LinkedIn can be an invaluable tool, not only for finding jobs, but also for being found. LinkedIn skills can be crucial in how recruiters and hiring managers find and source candidates.
>>MORE: A Beginner's Guide to LinkedIn
So, what skills should you add to LinkedIn, and how do you add them? In this guide, we'll cover:
Why Should You Add LinkedIn Skills?
LinkedIn skills offer more than just a list of skills you're qualified to do. The skills section is also used as a recruiting tool.
"There are many ATS, CRMs, or even recruiting software and teams that skim skills to open and review profiles," Elisa Pineda, talent acquisition manager at Forage, says. "This is especially true for larger companies who may not look directly at your profile first but do boolean searches for your skills."
Basically, adding LinkedIn skills helps recruiters and hiring managers who are searching for specific skills find you.
"[Adding skills] demonstrates to the hiring manager and recruiters that you are, in fact, in the same sandbox as them," Matthew Warzel, certified professional resume writer and former Fortune 500 recruiter, says. "When they see words that resonate with their role they're hiring for and in the industry they are in, they perk up. You are showing relevance. Help them help you. Use intentional skills — without fibbing — that you know live and breath in their world."
When you add relevant skills to your LinkedIn profile, you become discoverable. And you might miss out on potential job opportunities if you don't add them.
"The more keywords you match for the position you really want, the more companies that will reach out to you," says Ginger Auchter, director of scientific talent at Carex Consulting Group. "It makes you more likely to be contacted about a position you may not have even been aware of (or that may not even be posted)."
Showcase new skills
Build the confidence and practical skills that employers are looking for with Forage virtual work experiences.
Types of Skills to Add on LinkedIn
If LinkedIn skills are a critical part of the recruitment process, what skills should you add to your profile?
Job Skills
Start with the "buzzy" job skills for your industry. These are any skills you'll need to do the jobs you're applying for.
To find out what these skills are, look at the job descriptions of the positions you're interested in. Make a note of the hard and soft skills they're looking for.
Typically, these skills will be in a "requirements," "qualifications," "what we're looking for," or "who you are" section. There may also be clues about other skills they're looking for in the specific role description. For example, if it says the hire will "develop deep client relationships," the company may want someone with exceptional verbal communication skills.
You can also look at what people in the industry have in their skills section. For instance, if you're looking at software engineering jobs and other software engineers have data visualization in their skills section, you can add it to your profile if you have that skill, too.
Transferable Skills
Besides skills specific to the roles you're applying for, you can also include transferable skills. These are skills you can bring from one job to another, even if they're entirely different roles.
"Try to attach skills that apply or can be transferred into positions you are applying for or are interested in," Pineda says. "For example, customer service can often transfer into sales positions. De-escalation can become verbal communication. Try not to use too many cliché words, but things like 'good communicator' can be written creatively. It is a lot about how you write them and also what LinkedIn has available [in their skills library]."
When discussing these skills in a job application or interview, be prepared to explain how you'll use the skill in the job you're applying for.
>>MORE: 6 Ways to Get a Job With No Work Experience
Types of Skills You Shouldn't Add to LinkedIn
The skills section is a great place to show off what you know, but there are some skills you shouldn't add.
Skills You Don't Have
Don't stretch yourself and add a skill you haven't fully developed.
"If you have skills listed either within your skills endorsements, or within your summary and work experience sections, it's assumed that you have a proficiency level within that skill," Auchter says. "If you only have beginning knowledge, and it's a required part of the new job, there's a strong likelihood you'll be assessed on it during the interview process. Not only will this disqualify you from that role, but hiring teams often have long memories (and good notes) and this can come across as being dishonest — which can disqualify you from future roles as well."
Non-Transferable Skills
"Being precise and focused in the area you want to be contacted in is key," says Auchter.
For example, if you have programming skills but you're only interested in non-technical roles, you don't need to include them in your profile.
"Not only do these take away the focus from the transferable skills you do bring, but in many cases you may be more likely to be recruited for these skills that you don't want to focus on, simply because it's listed in your profile," continues Auchter.
Humorous Skills
While it's nice to remember you have fun, non-professional skills, your LinkedIn skills section isn't the place for non-work-related skills.
"Never include skills like 'good kayaker' or something almost too ridiculous like that," Pineda warns. "If you are an Olympian or Paralympian, by all means, add those because that is another level entirely. Try to make it more about how those skills can transfer into a position. For example, say you have leadership skills if you led a team in a rowing club, or were voted as speaker of the athletes or team captain."
How to Add Skills on LinkedIn
Now that you know why adding LinkedIn skills is important and which ones to (and not to) add, how do you add them to your profile?
It's as simple as clicking "Add profile section," navigating to "Core," then clicking on "Add skills." Once you start typing your skill, a list of potential options to add will appear. You can add a custom skill that's not in the pre-selected library by hitting "enter" after you've finished typing.
You can also choose to include where you learned those skills. For example, you can share if you gained them at your university or during a work, volunteer, or extracurricular experience.
The skills will then appear in a "skills section" toward the bottom of your profile.
Proving Your Skill Credibility
After you've added your skills, you'll be given the option to "demonstrate skills." You can demonstrate skills for HR, sales, marketing, and project management. If you choose to do so, you'll be prompted to either write in or record a video explaining how these skills are valuable to future employers. When you apply via LinkedIn, whatever you write or record will be visible in your job applications.
>>MORE: Should You Use LinkedIn Easy Apply?
For hard skills, you can take LinkedIn assessments to prove your skills in things like Microsoft Word and Google Analytics. If you score in the top 30%, you'll earn a skill badge.
But should you take the time to demonstrate your skills on LinkedIn? It can't hurt, but that doesn't mean it will help, either. If the recruiter or hiring manager finds your profile because of the skills you've listed, they'll likely expect you to demonstrate your skills in your resume, cover letter, and interview anyway — even if you've recorded a video or taken an assessment.
>>MORE: How to Write an Entry-Level Cover Letter (Example)
You can also get people in your network to endorse your skills. While this doesn't necessarily add to your discoverability on LinkedIn, it can add credibility to your profile.
Whether you choose to demonstrate your skills on your profile, get endorsements, or just add your top skills, make sure the ones you include are ones you really have.
"Anyone in your network can endorse you for skills, and you can also input your own skills on your profile," says Steven Waudby, senior recruiter at Delta Hire, a workforce development and hiring solutions firm. "Unfortunately, it doesn't let us know your proficiency with these skills. If a recruiter or hiring manager asks you to explain your experience using that skill, you need to be able to elaborate and cite specific examples."
LinkedIn Skills: The Bottom Line
Adding skills to your LinkedIn is a great way to get in front of recruiters and hiring managers. When adding skills to your profile, include skills that are both relevant to the jobs you want and ones that you really feel proficient in — and be ready to demonstrate how you'll use them in a role in your application.
Jumpstart your job search and get ready for the workforce with Forage's personal development virtual experience programs.
Image credit: Canva
The post Updating Your Profile on LinkedIn: Skills You Should (and Shouldn't) Add appeared first on Forage.